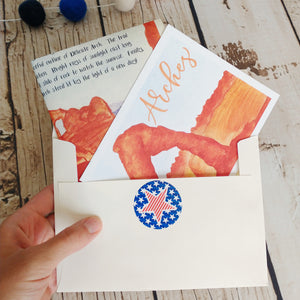 Arches National Park Letter
Sale price Price $5.50 Regular price
Join explorer Lizzy Jane
exploring the natural rock arches at Arches National Park!  
You will learn about the wildlife + plant life at Arches, as well as its characteristic rock formations.
Letter Includes:
- double-sided letter featuring hand-drawn artwork of Arches National Park
- souvenir postcard with artwork from the letter

This item will ship out in 2-5 days with free shipping to all US postal addresses including territories and APO/FPO.