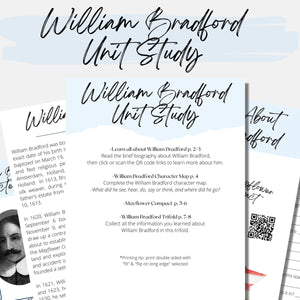 William Bradford Unit Study
Sale price Price $0.00 Regular price
Everything you need for a unit study on William Bradford, Mayflower Passenger and Governor of Plymouth Colony!

Packet includes:
- A brief biography of William Bradford
- Links to help you in your study
- A trifold worksheet
- A character map worksheet
- Mayflower Compact Worksheet
Free instant download.
Get our William Bradford Letter HERE!