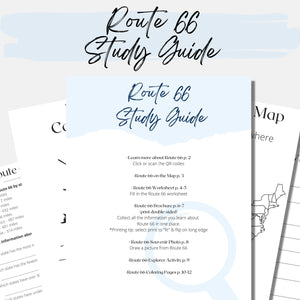 Route 66 Unit Study
Sale price Price $0.00 Regular price
Who's ready to explore Route 66?
Packet includes:
-Internet linked videos about Route 66
-Create your own Route 66 Brochure
-Draw a picture of Route 66
-3 Route 66 Coloring Pages 
-Route 66 Trivia Worksheets
& More!
Free instant download.  Pairs beautifully with our American Heritage Adventure Letter from Route 66!