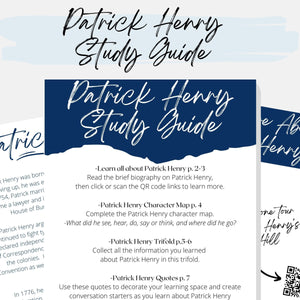 Patrick Henry Study Guide
Sale price Price $0.00 Regular price
Everything you need for a unit study on Patrick Henry, known as the "
Lion of Liberty" for his work aiding the colonies in their quest for freedom.
Packet includes:
- A brief biography of Patrick Henry
- Links to help you in your study
- A trifold worksheet
- A character map worksheet
- A curated set of 4 quotes from Patrick Henry
Free instant download.
Get our Patrick Henry Heritage Letter!