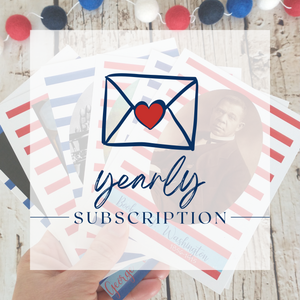 Heritage Letter 1 Year Subscription
Sale price Price $5.50 Regular price $6.00
Journey into the lives of America's heroes, heroines, and legends for one amazing year with our most popular subscription package!  Meet old friends and new acquaintances with each letter delivered to your mailbox.  Discover the men and women whose patriotism, innovation, insight, and exploration helped make the US such a remarkable place to live!
With this subscription package, you'll receive 12 letters for the price of 11!
By signing up for our prepaid 12 month letter subscription you'll receive the Heritage Letter every month for 12 months at a discount from our regular monthly subscription price.  At the end of 12 months your subscription will auto-renew for another 12 months at the same discounted rate.  Gift subscriptions do not auto-renew.
Be sure to create an account at checkout so you can update your subscription information at any time.  Due to the time it takes to create our letters, and the ability to receive it at a discount by purchasing a prepaid subscription, no refunds are available for this subscription option. 
If you've purchased this subscription as a gift, we have a free downloadable gift certificate that you may print and present to your giftee!