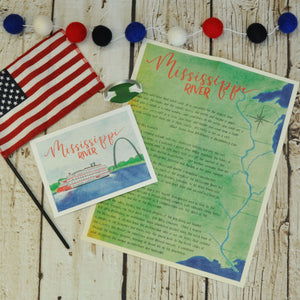 Mississippi River Adventure Letter: Digital Download
Sale price Price $3.50 Regular price
Travel up the Mississippi River in a wonderful adventure with explorer Lizzy Jane!  You'll visit sugar plantations in Louisiana, Elvis Presley's Graceland, Mark Twain's hometown of Hannibal, Missouri, and more while traveling from New Orleans north on the Mississippi River in a steamboat! 
INSTANT DIGITAL DOWNLOAD! Includes the January 2022 American Heritage Adventure Letter from the Mississippi River and a souvenir postcard.  This item will ship out in 2-5 days with free shipping to all US postal addresses including territories and APO/FPO.
Be sure to check out our blog post filled with helpful video links and more to accompany this letter at
Mississippi River Lesson Ideas & More!